Build a Secure Cyberspace Promotional Campaign
"Build a Secure Cyberspace" is an annual promotion campaign on information security jointly organised by the Office of the Government Chief Information Officer, Hong Kong Police Force and the Hong Kong Computer Emergency Response Team Coordination Centre since 2005. It aims to arouse the public awareness on information security through a series of promotional activities, including conducting thematic seminars and schools visits, distributing posters and leaflets, producing radio tips, and organising various contests.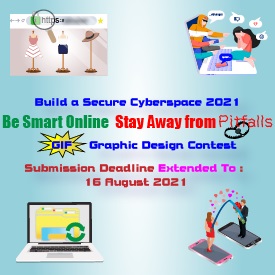 Please visit Infosec website for previous years of "Build a Secure Cyberspace" promotional campaign.