Build a Secure Cyberspace 2021 - "Be Smart Online, Stay Away from Pitfalls" Webinar cum GIF Graphic Design Contest Award Ceremony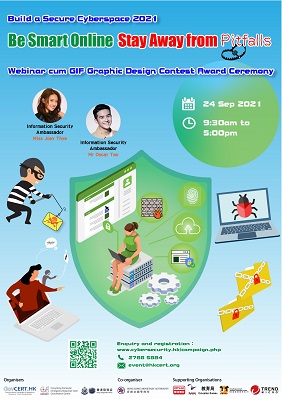 In this highly interconnected cyber world, the ability to adequately protect against cyber attacks, such as ransomware, phishing and distributed denial-of-service (DDoS) attacks, is of paramount importance. For an enterprise, it is important not only to protect its information systems and data assets but also to protect the privacy of customer data and corporate goodwill.
In this webinar, cyber security experts will introduce cyber security best practices and share their insights on defending against cyber attacks and the enhancement of cyber security postures of enterprises. The expert speakers will also share their experiences in staying away from cyber pitfalls and offer advice for being an ethical Internet user.
Organiser
Date
24 September 2021 (Friday)
Time
AM Session: 9:30am – 12:15pm (Online registration starts at 9:00am)
PM Session: 2:30pm – 5:00pm (Online registration starts at 2:00pm)
Language
Cantonese
Charge
Free (Registration is required)

Target Audience
AM Session (SMEs, Businesses, Management and IT Professionals)
PM Session (SMEs, Schools, Students and General Public)
AM Session
PM Session
Event Video (Cantonese Only)